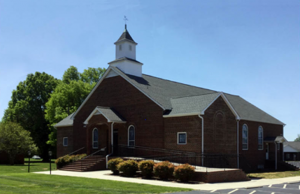 At Smith Grove Baptist Church, we have a simple hope: to see people come to know Jesus Christ and grow in their Christian faith. For 100 years, we've been helping spread God's good news here in our hometown and throughout the world, and we pray that God will continue to use our congregation. Whether you've been attending church for years or haven't stepped into a sanctuary in decades, we hope you'll come and join us Sunday if you're looking for a church in our hometown.
During the service, you'll hear our faith expressed in the songs we sing, prayers we offer up and our pastor's preaching. All parts of our service are grounded in the Bible, which we are committed to upholding.
After the service, feel free to say hello to our pastor and anyone else you see. We'd all love to hear your story and share ours with you.
No matter what your Christian background is (or isn't), we hope you'll join us on Sunday. Here at Smith Grove Baptist Church, you'll find all sorts of different people, and we welcome everyone--including you. Our services start at 11:00 a.m. every Sunday.
What kind of church is Smith Grove Baptist Church?
A CHRIST CENTERED CHURCH
The preeminence of Jesus Christ and His finished work on Calvary is our emphasis and message.
A BIBLE-BELIEVING CHURCH
We stand without apology for the fundamentals of Bible Christianity. We believe the Old and New Testament Scriptures are the inspired, inerrant Word of God, the final authority for faith and life.
AN INDEPENDENT CHURCH
We are an independent Baptist church, believing in the right of the local church to govern itself, to support itself, and to propagate itself.
AN EVANGELISTIC CHURCH
We practice our Lord's command to preach the Gospel to every person (both local and abroad), urging people to accept the Lord Jesus Christ as their only Savior.
AN EDIFYING CHURCH
Our ministry is designed to teach God's Word effectively, thereby assisting believers in their daily Christian life.
And a welcoming church! Why not come and see for yourself?