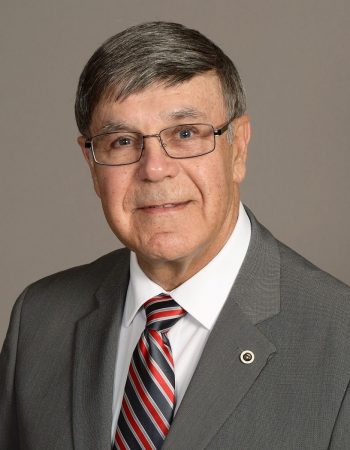 Dr. Charles R. Peters is a native of West Virginia. He later moved to Virginia where he was saved in November of 1968 at the Bethel Baptist Church in Amherst.
He was called into full-time ministry in 1970 and he started school at Piedmont Bible College in the fall of that same year. He graduated from Piedmont in 1975, and obtained a masters degree from Liberty Baptist Theological Seminary (Liberty University) in 1987.
In 1993, Pastor Chuck began teaching at Piedmont Bible College where he taught until the year 2000.
Pastor Peters, along with wife, Carol, has served as pastor for Smith Grove Baptist Church since June of 1998.
I'm from a Coal Mining Camp heading for the Streets of Gold"
(Testimony of Chuck Peters – A Coal Miner's Son)
I would like to share my testimony in terms of physical upbringing and eventual spiritual upbringing. I was born in a Fayette County, West Virginia coal mining camp. I have people to give me a funny look when I tell them I'm from Cliftop! They really look strange when I say I even lived up Smokeless Hollow! Understand up front that I have absolutely no regrets in that I was raised in a poor family. The poverty pertained to areas of less significance. The poverty was only physical in nature. I'm actually proud of my heritage! We had wealth in the things that really mattered. I'm talking about loving and caring parents who instilled in us kids life principles which would later be invaluable.
I remember the days of the company stores. My dad worked in the mines as well as all the dads of the kids that I went to school with. In those mining camps, you rented your house from the mining company and bought your clothes from the company store. Tennessee Ernie Ford's song applied well to my family. "You load 16 tons and what do you get, another day older and deeper in debt." That was our life! My dad many times wrote his paycheck over to the local company store where we bought groceries on credit.
We had no inside plumbing in our house and depended on the spring water from the surrounding mountains for our water. We drew water from these springs and usually dipped water while watching crawdads and lizards scurrying for cover under the rocks in the spring. We were told that they purified the water.
In those days discipline was practiced. Parents were known to sit down on their kids! Children were to be seen but not heard. Respect was demanded and not an option. Parents interpreted "improving the self-image" as wearing the hides of the kids out when they sassed and did wrong. My generation didn't understand the expression "time out" or "you are grounded!" Punishment was not, "go to your room," but rather, "get out of the house!" I can still feel the pain of the keen hickory switch and my brother can still taste sausage from the time that mom stuffed his mouth with sausage when he sassed her. Discipline seemed to work, for crime was down in those days and character was up. We learned early on to respect our parents and bad behavior was not tolerated. My parents would have had jail time for whipping us kids in today's culture. My parents not only didn't mince words in expressing themselves but they also didn't hold back on giving us a good paddling if we needed it.
We had no video games and did not even have a TV until I was nearly a teenager. We got one channel and it was snowy. I thought for a while that we were picking up a city in Alaska! Our antenna consisted of a nail driven into a tree outside our two story house bedroom. I would occasionally climb out the window, shimmy out on a limb, and reposition the wire on the nail for better reception. We later stepped up in style for we installed an antenna on the top of a ridge. We ran cable up the side of a ridge to an antenna on the top of the ridge. The wind would often blow the antenna around and we had to make adjustments. Several of us kids would station ourselves at various intervals up the ridge and holler to each other up the ridge, "turn it to the right, left, etc." That sounded kind of neat the way our voices echoed up the ridge!
We were poor and didn't have many toys. We usually made our own. We made spoke guns, stilts, tractors out of thread spools, and rolled tires. We swam in strip mining ponds and swung on grapevines. We usually got toys only at Christmas. We opened our gifts on Christmas Eve night. I remember my brother extracting the criers out of my sister's dolls. We thought for a while that he might eventually go to med school! It seemed to fascinate him to operate on the toy dolls.
We didn't eat fancy foods. We ate often pinto beans, fried potatoes and many times only lard gravy and biscuits for breakfast. Imagine telling your family doctor today that you had "lard gravy" for breakfast! Speaking of lard, I actually ate lard on occasions on ears of corn. We ran out of butter. We did get baked chicken occasionally on Sunday. I'm like my brother, however. He used to joke that he was 16 before he knew that a chicken had anything but a neck or a back! Children, in those days, usually ate after guests were served.
We didn't eat out. I don't remember eating a restaurant hamburger until I was in junior high. I remember my first store bought cupcake. I went to Charleston with my mother to visit a sister in the hospital. Mom bought me a cupcake and I took a bite of the paper coating on the cupcake thinking it was a part of the crust!
Everyone in those days, had outdoor plumbing. You were in style if you had a "double-seater!" We kept the famous "Sears Catalogue" handy. It served a better purpose in the outhouse than its real purpose in coaxing people to order. We certainly were too poor to do much ordering out of it.
We didn't do "texting" in those days primarily because there were no cell phones and we, in fact, didn't even have a "wall phone" until I was a teenager. We couldn't even hog the phone then because we were on a party line. I would add that this system did allow for one form of entertainment. We could listen in to party line gossip! We knew who had arthritis on our street!
I remember the first car my dad bought. It didn't have a motor. My dad bought it at Lookout, West Virginia and simply drifted it down to Winona. It was mostly a downhill grade from the car dealer and our house. I don't remember ever getting a motor for the car. I did enjoy sitting in it pretending that I was going somewhere. I think I even packed a lunch on occasions.
We were a poor family in terms of money and things but we were a rich family in terms of things that really matter. We children were privileged to have loving, hardworking parents. We grew up knowing the value of family cohesion. We were taught that honesty pays and work is commendable. We were taught that character means something and that joy and happiness can prosper in spite of the lack of abundance of things.
I believe that the Lord used my poor background to shape my character and condition my thinking to an understanding of my unworthiness and need of the Saviour. I found that not only do the "poor have the Gospel preached unto them" but the poor are blessed to not have material crutches to rest upon. It appears that bankrupt prodigals are the most likely to head home to the Father! Sometimes material poverty serves as a good illustration of spiritual poverty. The poor in society are the most likely candidates of the offer of the unsearchable riches of salvation in Christ!
I was an extremely backward person and especially frightened to give oral book reports in high school. I remember having a major upcoming oral report and was so frightened that I quit school and later joined the Marines.
The turning point in my life occurred in 1968. I was a reckless and miserable sinner that heard the Gospel preached in a little country church in Amherst, Virginia. My dad had moved our family to Virginia in search of work. I was saved on that eventful night and God turned my life around. I was called to preach shortly thereafter. I found myself doing the very thing that I feared the most, standing before people! I also found myself disciplined in a way that was foreign to my pre-salvation life. I can say that God brought me all the way from a "dropout" to spend decades of my life in College and Graduate Schools. Before I got saved, I didn't want to learn and after I got saved, I found I couldn't learn enough. It is amazing that when the focus is upon knowing "Him and the power of His resurrection," you become obsessed with the desire to learn!
My testimony is a reflection of what only God can do. He found me in a sinful gutter of depravity, saved me by His grace, called me into the ministry, blessed me with a wonderful, supportive wife and son, and then mercifully allowed me to serve Him in the capacity of Pastor, Teacher, and Army Chaplain!
My life's story is that of a coal miner's son being translated from rags to riches. I came from the rags of spiritual poverty to the unsearchable riches of my Saviour's salvation! By the Grace of God, I'm simply an old West Virginia country boy who was adopted into the royal family of the King! I have enjoyed the journey and the glorious truth is that the journey is going to get better!
My story, in conclusion, is that of a poor old country boy coming out of the coal mining camps of West Virginia, meeting the Lord in salvation and now heading for the streets of gold. I'm thankful for Cliftop, West Virginia, where I was born the first time and for Amherst, Virginia where I was born the second time. I'm thankful for my dad the coal miner, but especially I'm thankful for my Saviour, the King.
By the grace of God I have come all the way from lard gravy to the manna from Heaven. Wow, what a journey and it's not over yet! Don't feel sorry for my background; I wouldn't want it any other way. I lived without Christ and found that life was a hopeless end. I was saved and now enjoy an endless hope. This is one old coal miner's son who is thankful for life. I am thankful for a humble beginning and a glorious new beginning that will culminate in one day my being glorified in my Saviour's likeness.
Pastor Chuck Peters
IMAGINE ~ By Chaplain (Maj) Chuck Peters
Imagine a place with streets paved with gold; imagine a place where we never grow old.
Imagine a land where there is no night; imagine a place where all will be right.
Imagine a time of no separation and nothing to end our celebration.
Imagine a body with no sickness or pain no wheelchairs are needed not even a cane
Imagine the time when the heart is not broken, when hatred is gone and love is the token
Imagine the bliss of the glorious day when tears are not shed for a child gone astray
Imagine the smile that will shine on the face of Heavens host that has ended the race
Imagine the world when wars will end, when soldiers return with no wounds to mend
Imagine not having to go off for war, imagine a World with no weapons in store
Imagine our living at last in a land where righteousness reigns and love has no end
Imagine our seeing our Savior's dear face and praising the One Who saved us by grace
Imagine the joy of being home at last all grief is now gone, all sin is now past
Imagine our seeing loved ones gone before, of hearing their greetings as we walk through the door.
Imagine the talk as we stroll down the street; imagine all the saints of God we will meet
Imagine our meeting the prophets of old and hear from their lips the message they told
Imagine their saying they once told the story that Jesus would come and reign in Glory
Imagine the wedding to our Bridegroom so fair; imagine the meeting we'll have over there.
Imagine this heaven where joy is complete, where saints will all meet at Jesus' feet
Imagine our singing of our victory, of millions of voices and perfect harmony
Imagine our finally telling the story we are now safe at home and forever in glory